Validating SPF Records:
We recommend reviewing the article "How do I create an SPF record?" and following tools such as Unlock the Inbox™ SPF Wizard or Unlock the Inbox™ Sender ID Wizard to create a proper SPF record. Once created, this article can be used to validate your records' existence and syntax.
Step 1: Verify the existence of your domains SPF record in DNS. If you have completed this already, skip this step.
Step 2: Use the tools at Kitterman.com to validate your SPF records.
Test Number One:
Use the "Does my domain already have an SFP record? What is it? Is it valid?" test.
Enter your domain in the dialog box (e.g. acme.com / no 'www' or 'mail' prefix) and click "Get SPF Record (if any)"

Your domain name will be processed and a report will be created. If your domain an SPF record is found and syntactically valid, the report will indicate box.
Example of a domain with a valid record: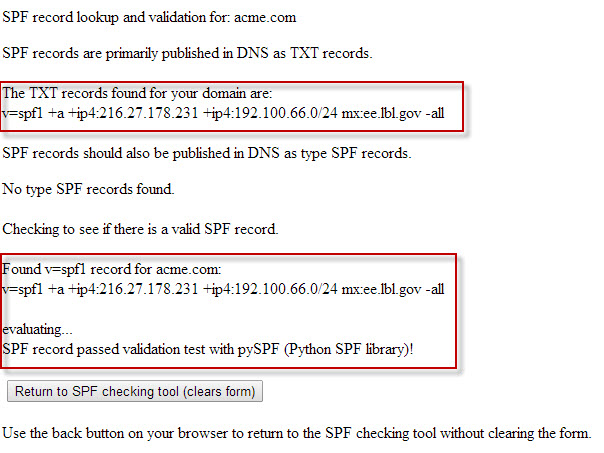 Example of a domain with an invalid or non-existent record: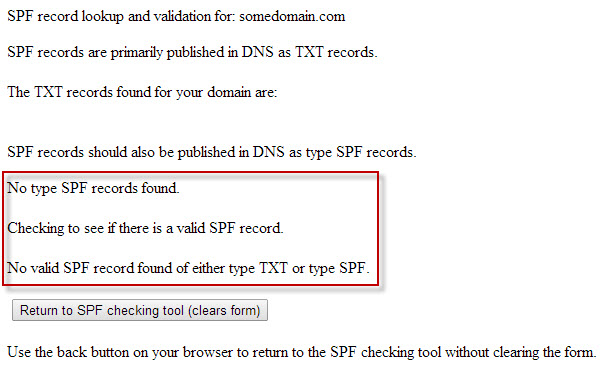 Test Number Two:
Use the "Is this SPF record valid – syntactically correct?" test.
Enter your domain in the dialog box (e.g. acme.com / no 'www' or 'mail' prefix) along with your TXT SPF record from DNS and click "Check SPF record" button.

Example of domain that has passed the syntax validation test:


Test Number Three:
Use the "Test an SPF record" test to evaluate the performance of your SPF record based on the IP addresses you've indicated should be valid for sending email (e.g. all servers that might send email on your domains behalf).
Enter your mail servers IP address (verify here), your SPF record and any email address under that account, then click the "Test SPF Record" button.
Note: If testing for MailChannels relay (users of our shared hosting email servers – verify here), make sure your SPF record has been updated as per the KB Updating your SPF record to include Mailchannels support and has 'include:relay.mailchannels.net' as part of the record.

Example of domain that has passed the test:


Last modified: July 21st, 2016 by Yandi L. – Repaired broken links for SPF Wizard & Verifying Existence of SPF Records