WebMatrix uses the Microsoft Web Platform Installer to install on your computer. Follow the below steps to install WebMatrix on your computer.
Visit Microsoft WebMatrix website

Open your web browser (Internet Explorer, Chrome, Firefox, Safari, etc.) and go to http://www.microsoft.com/web/webmatrix
Download WebMatrix installer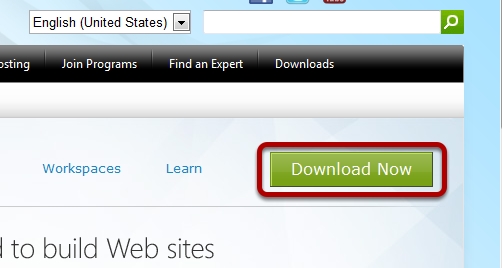 Click the large green "Download Now" button.
Install Microsoft Web Platform Installer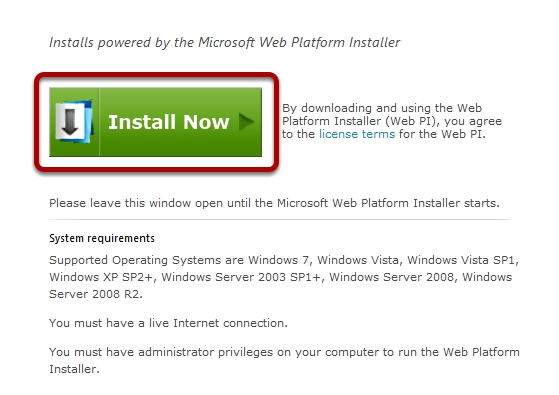 If you already have the Microsoft Web Platrom Installer installed on your computer you will not see this or the next step. However, chances are you do not already have this installed. Click on the "Install Now" button to begin the download and installation.
Allow installer to run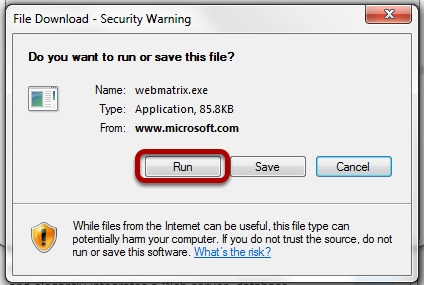 Depending on which web browser you use your security box may look a little different. What's important is that you select the option to allow this file to run when downloaded. If you save it to your computer first please remember where you saved it to so you can manually run the installer after it finishes downloading. Also, depending on the version of Windows you run and the security settings on your computer, you may also be prompted to allow this application to be installed, click "Yes".
Install WebMatrix application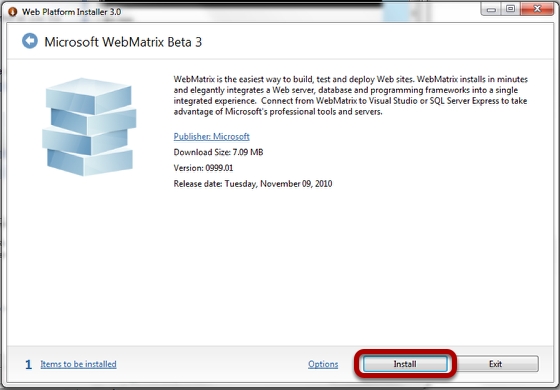 When the Microsoft Web Platform Installer launches it will open directly to the option to install WebMatrix. Click the "Install" button.
Accept Microsoft license terms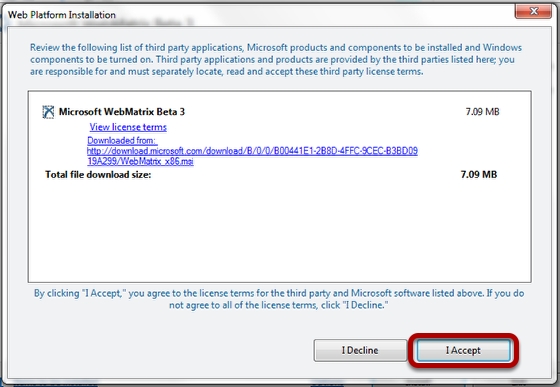 WebMatrix relies on many technologies from Microsoft. Depending on what you may already have installed on your computer there may be a longer list of components listed. Click the "I Accept" button to begin the installation.
Success!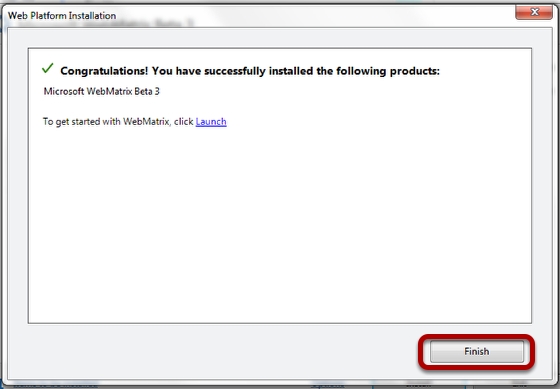 When WebMatrix and it's related technologies have been installed on your computer you will see this success screen. Click the "Finish" button.
All Done!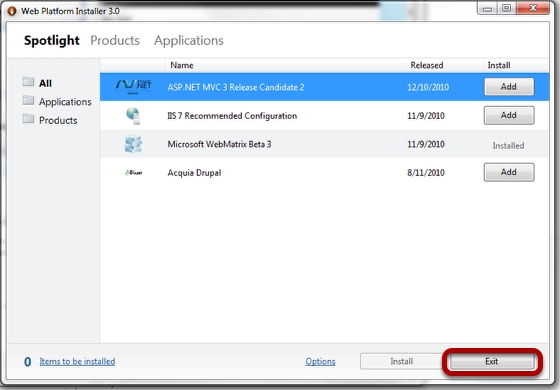 Unless you want to install more applications from the Web Platform Installer you can now click the "Exit" button. You can also use the Web Platform Installer to install other applications on your computer and any number of web applications to your website including WordPress, DotNetNuke, and many more.
Content retrieved from: https://support.appliedi.net/kb/a647/how-do-i-install-webmatrix.aspx.